Your website browser is no longer supported.
Upgrade Now
Your device's Operating System is outdated. Please update for better rendering.
Upgrade Now
Take draft beer home!
We are pleased to offer draft beer to go in both growlers and Crowlers here at Pinocchio's. Apart from draft beer often being the freshest beer available, many specialty beers are only available on tap.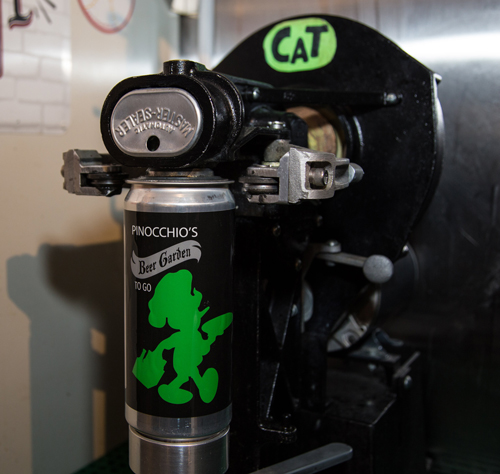 A Crowler is a 32 ounce, Growler-sized can. We purge the can with CO2, fill it at the tap, then seal it with a bar-top seamer. The Crowler entirely blocks out light and oxygen, as well as provides a sharable, recyclable container. This means the Crowler has a superior shelf life and can stay in good shape up to 30 days in your refrigerator.
Growlers are jugs or similar containers filled by a bar or brewery with fresh draft beer. They are usually made of glass or stainless steel, and less commonly ceramic. Using a clear glass growler can expose the beer to light and may result in "skunking". At Pinocchio's all our growlers are either stainless steel or brown glass to protect your draft beer.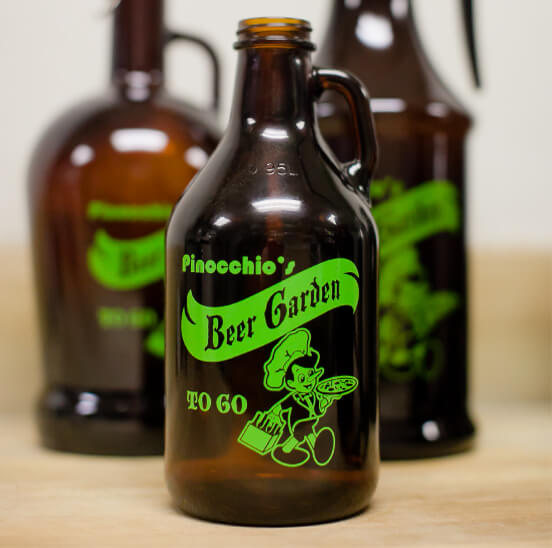 our growlers
Old reliable

Our 64 oz screw top glass growler is a classic. The original growler at Pinocchio's has been keeping our draft beer fresh for home consumption since 2010.

Boston round

Holding 32oz, the "Grenade" is our smallest option for those occasions when just a couple of great draft beers is all you'll need.

Keg Growler

This 64 oz. keg-style growler is single wall insulated, made from indestructible stainless steel and comes with a no-leak cap. It is attractive and fits easily in your fridge door.
Growler care
The best way to care for your growler of fresh draft beer starts with keeping it cold. Storage at higher temperatures will accelerate the oxidization process and compromise the quality of the beer. Once the growler has been opened for consumption, we recommend finishing it within 24 to 48 hours due to carbonation loss and excessive exposure to oxygen. Once emptied, rinse the growler with hot water and allow it to dry uncapped.